CINEMAGS #158 Dua Cover, Penuh Aksi Seru!
Koleksi segera Majalah Cinemags terbaru dengan double cover The Bourne Legacy dan The Expendables 2. Jangan lewatkan ulasan lengkap film tersebut beserta profil-profil artisnya dan bonus poster. Selain itu masih ada ulasan Resident Evil: Retribution dan Perahu Kertas. Simak juga wawancara khusus Cinemags langsung dengan artis dan kru film The Dark Knight Rises. Tak ketingggalan ikuti berbagai macam kuis, baik itu merchandise film, buku, maupun CD.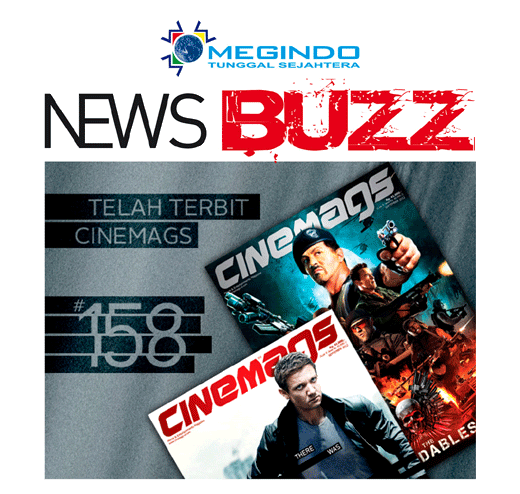 CINEMAGS #158
COVER: The Bourne Legacy/The Expendables 2
PRICE: Rp. 41.000,-
BONUS: Poster, Bookmarks, etc
CINE SCREEN: THE BOURNE LEGACY |THE EXPENDABLES 2 | RESIDENT EVIL RETRIBUTION
REVIEWS: PREMIUM RUSH | COSMOPOLIS | LAWLESS | THE WATCH
REGULAR: EUROPE | ART | STAR | CULT | MOVIE | NEWS | NOTE BITES | MOVIE MAGIC | GLOBAL STAR | ASIA | BLU-RAY | G-SPOT
BONUS: POSTER | BOOKMARK | ETC
QUIZ: THE AMAZING SPIDER-MAN | BRAVE | BOOKS | CD
NEW RELEASE
Out Now in Stores!
022-4216657 021-2305469 021-39838938
www.cinemags-id.com
www.megindo.net
SOURCE:
Megindo.net