GADGET+ #87 Windows Strikes Back!!
Windows sempat memimpin pasar sistem operasi dunia, baik untuk komputer maupun mobile device. Namun kini peta telah berubah, khususnya untuk mobile device yang dikuasai oleh iOS dan Android. Melalui Windows 8 dan berbagai perangkat yang menyertainya, Microsoft berusaha menguasai kembali pasar OS dunia. Dalam edisi ini, kami juga mengulas game Diablo untuk Mac serta 25 aplikasi HD untuk iPad Anda. Dan masih banyak ulasan menarik lainnya yang sayang untuk dilewatkan.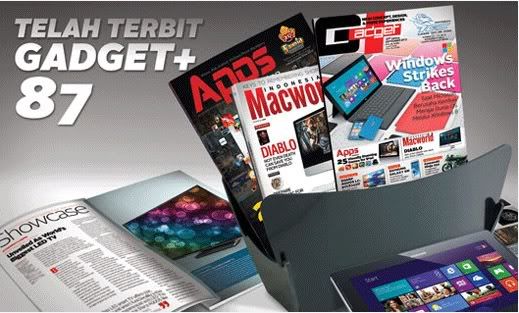 GADET+ #87
COVER: Windows Strikes Back
PRICE: Rp. 40.000,-
FEATURE: WINDOWS STRIKES BACK | 25 VISUALLY STUNNING GAMES FOR iPAD | DIABLO FOR MAC SHOWCASE: SHARP AQUOS LC-90LE745U | ODD ATOM 3D PRINTED GUITAR | ONKYO TX-NR5010 | AND MORE! ZOOM: DROPBOX
REVIEW: SAMSUNG GALAXY S III | SONY XPERIA SOLA | WD MY BOOK LIVE DUO | SENNHEISER VMX 200 | AND MORE!
REGULAR: HIGHLIGHT | MEN'S WORLD | HOME APPLIANCES | FRESH APPS | TIPS & TRICK | WORKING MAC | CREATE | HELP DESK
Out Now in Stores!
HOTLINE
Call Centre: 022-4216657
Marketing & Distribution: 021-3900747, 021-39838938, 021-70906877
**Gadget, Apps Station, dan MacWorld Magazine dapat Anda miliki secara terpisah dengan ulasan yang lebih lengkap dalam bentuk digital di Wayang Force.
www.gadget-id.com
www.megindo.net
SOURCE:
Megindo.net